Mobile shredding options allow the convenience of shredding at your curbside. Trucks are totally self-contained and can operate without any outside power source. They will shred in an hour what it would take you a month to shred with a normal office shredder.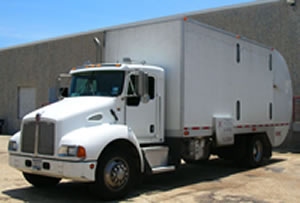 If you prefer to watch your documents being shredded, then an on site mobile shredding solution is for you. Mobile shredding trucks are configured so that you can watch your materials being destroyed.
The trucks shred 6,000 pounds an hour so most jobs only take a few minutes - in less than 15 minutes, they can perform any typical office shredding purge, from one box to one hundred boxes.
Normally, locked bins are placed in your Seattle office for you to collect all your documents. Drivers come by on a regular schedule and protect your important business data from getting into the wrong hands.
How Mobile Shredding Works in Seattle
STEP 1: Materials are collected by driver and carried out to the truck.
STEP 2: Everything is shredded into a sealed compartment in the back of the truck. You watch the shredding so you know it is completely secure.
STEP 3: A certificate of destruction is provided based on the volume shredded.
STEP 4: The shredded paper is baled, sent to a paper mill, and then pulped down into new paper products.
Get Free Quotes on Mobile Shredding Services in Seattle, WA
To learn more about the secure mobile services available at Seattle Paper Shredding Service, just give us a call at (206) 319-0227, or simply request a FREE quote today.